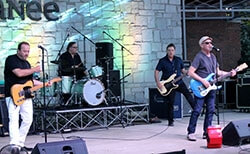 Almost two years have passed since Pat DiNizio, the lead singer of the Smithereens, died at age 62. Replacing his rich, distinct baritone voice should have been impossible, but the group found an unlikely replacement in pop singer-songwriter Marshall Crenshaw.
The last most people heard of Crenshaw was back in 1982, when his Beatlesque song "Someday, Someway" sneaked into the Top 40. Since then his clear tenor voice, which sounded eerily like John Lennon, has deepened somewhat. Once he began singing "Miles from Nowhere," from 1994's A Date with the Smithereens, it almost sounded like the Smithereens. Almost.
Seeing Crenshaw front the Smithereens was surreal. You expected to see DiNizio, was saddened and disappointed that he wasn't there, yet thrilled to see such a talented singer-songwriter perform.
No solo Crenshaw?
However, Crenshaw didn't perform any of his own material, opting instead to stick to the Smithereens' catalog and, for some reason, three cover songs. That was a disappointment. Even a mini-set before the Smithereens came on would have been something to hear.
Crenshaw still didn't seem comfortable singing in DiNizio's place, but the rest of the band was rock solid. Lead guitarist Jim Babjak was spot on and lent some authenticity that may have been lacking without DiNizio. His playing was especially superb on the cover of the Beatles' "Something"; he nailed George Harrison's signature guitar solo.
As with all concerts, there were some questionable omissions. The crowd would have recognized "Too Much Passion," but the band didn't include it. I would have preferred more cuts from their signature album 11, but was satisfied with their hit "A Girl Like You" and the poignant "Cut Flowers."
I doubt if half of the thousand people in attendance knew who the Smithereens were – they were there to socialize and eat wings. But some diehard fans were in attendance down front. And after 40 years of the Smithereens being together, Pat DiNizio would have been happy to see those fans singing along.