Made in Piteå – David Myhr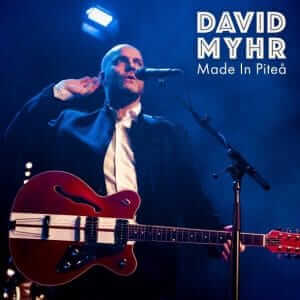 In this new era of COVID isolation, going to concerts has been one of those luxuries that we have taken for granted, aside from a few dumbasses like Smash Mouth that still try to perform.
Swedish singer-songwriter David Myhr has the answer, though. He's released a movie from a 2018 show in his former hometown of Piteå, and once again we can enjoy live music, if only from the comfort of our own living rooms.
Myhr has delighted power pop fans for years with his music, first with the band the Merrymakers and for the last several years as a solo artist. His solo debut album, Soundshine, got my pick for Best Album of 2012, and his album Lucky Day featured several standout tracks and collaborations with other songwriters.
His show in Piteå at Black Box, Studio Acusticum was a romp through his discography. While most of his set consisted of songs from his then-new album, he pulled out a few oldies — the Beach Boys-inspired "I Love the Feeling" from Soundshine, the Merrymakers song "April's Fool," which was penned with Andy Sturmer of Jellyfish, and a spot-on version of the Elvis Costello/Paul McCartney collaboration "Veronica" — one of my personal favorite Costello songs.
Myhr's band was tight and well-rehearsed, consisting of Lucky Day's co-producer, Andreas Dahlbäck, on drums, songwriter/producer Peter Kvint on guitar, Jerker Odelholm on bass, Mikaela Hansson on keyboards, and Robert van der Zwan on guitar. While he spoke to the crowd in his native Swedish, he was kind enough to put English subtitles up so us monolingual Americans could follow what was going on.
Myhr, who is also a senior lecturer at Luleå University of Technology's School of Music, also has a live album from the concert streaming on all the popular music channels. He paid for the production and development of the album and is taking voluntary donations for a "concert ticket" at https://paypal.me/davidmyhr to help pay for the expenses.
"I felt this would be 'the definitive David Myhr concert.' And that was exactly what it became. So I felt it was of utmost importance to preserve this moment in time for the grandkids," said Myhr, who himself is a new father.
I'm not usually a fan of live albums and concerts, but this one is done so well and sounds so much like the originals —  even "Veronica" has a Costello vibe — that it's enjoyable. Myhr takes pride in his work and cares enough to recreate the songs so that fans can enjoy them and not hear him ad lib and throw surprises in there that may ruin a song. It's David Myhr's music laid out for fans to enjoy, and that's exactly what happens during the show.