What Happened to a-ha?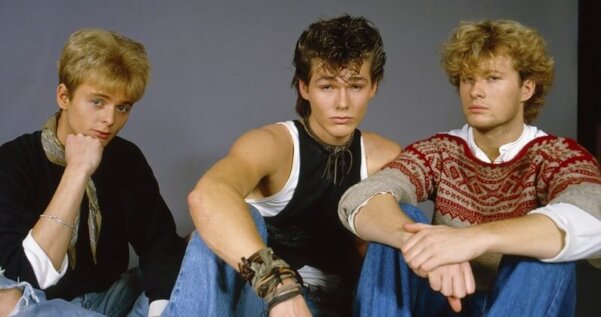 No other song typified the 1980s more than a-ha's "Take On Me." Lightweight, synth-driven, but catchy as hell, it even featured a memorable video that combined pencil-drawn animation with live action to make it seem like the band members were actually in a comic book. Lead singer Morten Harket's cheekbones seemed to be chiseled by Michelangelo himself, causing teenage girls to fawn all over him. But as quickly as a-ha came from their native Norway, reaching No. 1 in the U.S., they left, just as so many one-hit wonders did during that decade.
So what happened to a-ha?
No one-hit wonder
First, many 80s enthusiasts will tell you that a-ha was not a one-hit wonder in the U.S. The follow-up to "Take On Me," "The Sun Always Shines On T.V.," reached a respectable No. 20 on the Billboard Hot 100. But after a smash like "Take On Me," the single was deemed a disappointment, And like so many other groups, the fact that their first hit was their best song spelled disaster, at least in the U.S. Only one other song hit the Hot 100 — 1986's "Cry Wolf," which reached No. 50.
But that didn't stop a-ha. The band became international superstars, releasing five albums between 1984 and 1994. Eight of their singles hit the Top 10 in the U.K., and in Norway, they had nine No. 1 hits.
In 1987, they were asked to write and record the theme song for the James Bond film The Living Daylights. The song was a Top 10 hit in seven countries. But they were huge in Brazil. The band set a world record in 1991 when they performed in front of 196,000 fans at Rio de Janeiro's Maracana Stadium.
What happened to a-ha
After disappointing sales of their 1993 album Memorial Beach, the band tried one more time to create some magic, but after some failed attempts at demos, they decided to go on hiatus to explore other projects. Magne Furuholmen formed another band, Timbersound, and contributed to several movie soundtracks. Paul Waaktaar-Savoy created Savoy with his wife and released several albums in the late 1990s. Harket preferred solo work, releasing several albums.
In 1998, a-ha was asked to play at the annual Nobel Peace Prize concert in Oslo. Members of the band met and not only agreed to perform but also made plans for a new album and tour after recording the single "Summer Moved On." They made an appearance at the concert again in 2001.
The resulting album, Minor Earth Major Sky, hit No. 1 in Norway and Germany and yielded the hit single "Summer Moved On." The success of the album kept a-ha together during the decade, and they released three more studio albums, two live albums and three compilations over the next seven years.
Then the group announced they were going their separate ways in 2009. They would launch a "farewell tour" in 2010 and then disband. "
"We've literally lived the ultimate boy's adventure tale," the group told The Guardian. "It will give us a chance to get more involved in other meaningful aspects of life, be it humanitarian work, politics, or whatever else."
Their final concert was at the Oslo Spektrum on December 4, 2010. Those final concerts were released on DVD and Blu-Ray, and a companion CD was released in 2011.
Once again, the members pursued other projects. Harket released two more solo albums; Waaktaar-Savoy released two singles; and Furuholmen became a mentor on the Norwegian version of "The Voice." One would think that the group's retirement would be the end, but with 80s bands, there are no such things as goodbyes.
Reunited — again
a-ha reunited to perform at Rock in Rio 2015, and later that year they released their 10th studio album, Cast in Steel, with an accompanying tour of Europe. They performed at the Nobel Peace Prize Concert for the third time in 2016.
In 2017, the band recorded a concert for "MTV Unplugged" and released a CD of the material later that year. The acoustic version of "Take On Me" was used in the movie Deadpool 2.
a-ha: The Movie premiered in 2021 at the Tribeca and Munich film festivals. Glide magazine said the movie was "a steady reminder that the Norwegian trio was much more than a one-hit wonder, only underscoring the tensions that resulted and ended up defining much of the band's decades-long history."
The group announced that they would be releasing yet another studio album, True North, in 2022. "This is our melancholy tribute to the sea and northern Norwegian nature," Furuholmen told VG.
Sources:
https://en.wikipedia.org/wiki/A-ha
https://en.wikipedia.org/wiki/A-ha_discography
https://a-ha.com/story