What's the Best R.E.M. Album?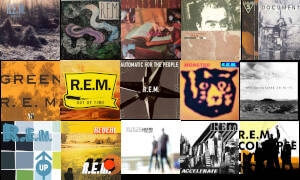 Finding the best R.E.M. album is easy at first because you can quickly separate the wheat from the chaff. There are very few meh R.E.M. albums. They're either phenomenal or terrible.
But the thing about R.E.M. is it's hard to pick a favorite. You could poll 10 fans and get 10 different answers. I'll probably get scathing emails from people because I'll say that 1994's Monster is the worst album they've ever made, and they'll proclaim its perfection.
Let's dive in.
The bad R.E.M. albums
So yeah, we almost have two lists, the bad and the good. Or as I like to say, B.B.B.D. (before Bill Berry's departure) and A.B.B.D. (after Bill Berry's departure). Berry, the band's drummer, suffered a brain aneurysm on stage in 1995 and had had enough; he retired to his farm in Watkinsville, Georgia after 1996's New Adventures in Hi-Fi. After his departure, the group didn't replace him. They simply recruited session drummers when they needed percussion, knowing they could never fill his shoes. But Berry was more than just a timekeeper; it seems as if he was a key part of the songwriting process.
"[Bill] would generally come up with several ideas for each record, and he would also be a really good editor for us," bassist Mike Mills told the Chicago Tribune in 2008. "He was always very much about keeping them short, getting to the hook. He didn't want to waste a lot of time and people's attention noodling around."
Most of their output after Berry's departure falls under the bad category, starting with 2001's Reveal, which has no redeeming qualities outside of the sleepy "Summer Turns to High." So we take it, 2004's mediocre Around the Sun and their last release, 2011's insubstantial Collapse Into Now, off the list immediately. R.E.M. seemed to have slept through the songwriting and recording processes. Whatever merits these albums possess,  they're not enough to keep them in this evaluation.
Also gone from contention are some albums from their middle-aged years, which includes their loud, tuneless response to grunge, 1994's Monster, as well as their last album with Berry, New Adventures in Hi-Fi. I'll also cut 1987's Document from consideration. Their last indie record, it's best known for the fast-paced "It's the End of the World As We Know It (And I Feel Fine)," but the rest sounds like they were rushed into creating material for the album.
The one release from their later years that I haven't mentioned, 2008's Accelerate, is close to being the best of the worst. After failing with the aforementioned Reveal and Around the Sun, the band returned to form with this release. The album starts off with energy and excitement for three songs, recalling their early years, only to falter and stumble as it goes on.
Surprisingly, I'll put Automatic for the People, whom many would put at the top of their lists, at the top of the discard pile. It's R.E.M. at their commercial peak, having sold 3.5 million copies, but it spawned the three most overplayed R.E.M. songs in history — "Everybody Hurts," "Nightswimming" and the truly awful "Man on the Moon." Its opening ballad, the morose "Drive," quotes "Rock On" by David Essex, which belongs in the garbage heap of rock 'n' roll. And even the soothing piano ballad "Nightswimming" has not aged well.
So if you're playing along at home, the rankings of every R.E.M. album so far are:
15. Monster
14. Reveal
13. Collapse Into Now
12. Around the Sun|
11. New Adventures in Hi-Fi
10. Accelerate
9. Document
8. Automatic for the People
Getting close to the top
Even more of a shocker than tossing Automatic for the People: putting 1998's Up, their weird, electronic release (and the first without Bill Berry) in the top tier. It took some getting used to, but I've found it to be one of the few albums that I liked from this era. Berry's departure forced them to think differently, and despite its oddities, it's Eno-esque in places and is more eclectic than anything they've ever done. It also includes one of my favorite R.E.M. songs, the pristine Beach Boys-influenced "At My Most Beautiful."
Then it's a race to the top for the other six albums, which could all easily be the best R.E.M. album.
I always think Out of Time is better than it really is, with its monster single "Losing My Religion" and its rootsy, acoustic sound. "Half a World Away" is achingly beautiful. "Near Wild Heaven" makes my blood glucose rise, it's so full of sugary goodness. And "Radio Song," for all the criticism it gets, has a beautiful chorus and some old-school rap from KRS-One — a first for R.E.M. But the album fades in quality toward the end, and "Shiny Happy People" drives it down a notch.
Next is Fables of the Reconstruction, an album that almost tore the group apart. It's brilliant in spots, subpar in others, and its consistency is its undoing. It defines the Southern gothic genre, with its dark folk-influenced stories. "Feeling Gravitys Pull" is dissonant and creepy, and "Maps and Legends" continues the morose, minor-key mood. "Green Grow the Rushes" is a favorite of mine, as is "Good Advices."
Reckoning is their most underrated and forgotten album, although NME ranked it No. 1 on their list of R.E.M. albums. I can't point to a standout song here, but it's probably their most consistent album track for track, with the popular "Don't Go Back to Rockville" and the folk-rock anthem "So. Central Rain (I'm Sorry)" headlining the LP.
Murmur used to be at the top of my list, but that was because everyone else had it at the top of their list, and it was Rolling Stone's Album of the Year when it was released in 1983. Certainly, for a debut album, it's remarkable. The group sounds seasoned and more mature than they really were. "Radio Free Europe" has to be one of the best debut singles ever, and "Sitting Still" is jangle-pop at its best. But again, it also suffers toward the end; it's as if R.E.M. doesn't know how to finish off an album. They can do it, as we'll see soon.
1988's Green was the group's major-label debut and yielded a top 10 hit in the corny "Stand," one of the worst songs on the album. The first two tracks, "Pop Song '89" and "Get Up," are almost the best starters to an R.E.M. album you'll find. And "Hairshirt" is melancholy perfection, as R.E.M. begins to experiment with a mandolin and finds its bittersweet sound to their liking.
That leaves Lifes Rich Pageant at the top of the mountain. This album is magnificent, from the angry opening strains of "Begin the Begin" to the bubblegum influence on their cover of the Cliques' "Superman." It's energetic but melodic, and the sublime single "Fall on Me" is as good as it gets for this group.
The rest of the ranking:
7. Up
6. Out of Time
5. Fables of the Reconstruction
4. Reckoning
3. Murmur
2. Green
1. Lifes Rich Pageant