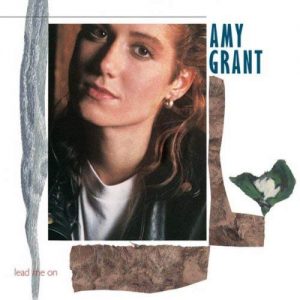 Last night at dinner, Some friends and I were talking about Amy Grant's career and her jump from Contemporary Christian music to pop music. Some Christians frown at her "betrayal," somehow implying that she was tainted by making music for the masses. Minutes later, my favorite song of hers played on my iPod, "If These Walls Could Speak" from 1988's Lead Me On, and I was reminded of Grant's talent at what I believe was the pinnacle of her career. 
This album was the centerpiece of Amy Grant's transition to pop music. Prior to 1985, she was the poster child of CCM, with praise songs such as "Father's Eyes" and "El Shaddai" filling churches worldwide. At the time, I was attending a church that embraced CCM and encouraged its youth to listen to Christian artists. (I still shudder at my music collection during this period – Hello, Stryper??) Grant's beginning foray into the secular world, 1985's Unguarded, was pure, bleach-white pop, and I was excited that "Find a Way" actually charted.
Lead Me On
Jump forward three years. I had left CCM and mainstream pop behind in favor of R.E.M., INXS and Tracy Chapman. I hardly paid attention to Lead Me On when it was released, and neither did the pop music world. And it's a shame, because there are some jewels on this album. Grant set aside the positive sound of Unguarded for a more somber, acoustic sound. Her songs were still spiritual, but the pressure of writing overtly Christian messages into every song gave her more freedom to explore other thoughts and feelings.
"If These Walls Could Speak," a song penned by acclaimed songwriter Jimmy Webb and previously released by Glen Campbell, appears toward the end of Lead Me On. It's sparse but beautiful, with Grant's plaintive voice ringing true with little embellishment. She's accompanied only by a piano, with strings appearing every so often.
A song never sounded so true and pure to a 20-year-old trying to leave corny pop music behind. One year later, her entry into the pop world was complete with her Top 10 smash "Baby Baby," which was a little too saccharine for me.
I have thrown my Stryper cassettes away and sold my Michael W. Smith records, but I still listen to Lead Me On, and as I did last night when "If These Walls Could Speak" played, I smile when I hear such simplicity simultaneously expressing joy, sorrow and peace.