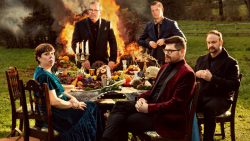 Oh yeah. I went there.
Dare I question the darlings of indie rock, that quirky yet mesmerizing group from Portland called the Decemberists? Despite loud accolades from such publications as Paste Magazine and recommendations from many of my friends with musical taste, I have yet to become enamored with this band.
According to Wikipedia, I should. Their style ranges "from upbeat pop to instrumentally lush ballads, and [they] often employ instruments like the accordion, Hammond organ, Wurlitzer organ, and upright bass." That's right up my alley. But the few cuts I've heard have been strange at best. And a recent live appearance on TV left me perplexed by their bizarre arrangements and theatrical displays.
I decided to immerse myself in two of their more popular releases, The Crane Wife and The Hazards of Love, to see what all the fuss was about.
The Crane Wife
I was shocked when I heard the opening chords to the Decemberists' 2006 release, The Crane Wife. (The song is called "The Crane Wife 3," while "The Crane Wife 1 & 2" finish the album, for some strange reason. Oh yeah — They're quirky!) A single acoustic guitar played, strong and subdued at the same time. Even lead singer Colin Meloy's bleating voice entering over the guitar didn't bother me too much.
After years of enduring this overrated group, I had finally found a Decemberists song I could put on my iPod.
The Crane Wife was the Decemberists' major label debut, and the bizarre theatrics of Picaresque are subdued somewhat – perhaps to reach a wider audience and please the record executives at Capitol. I can just imagine the conversation.
Record Exec: So, Meloy, you got a single for me? I need something bouncy, something emo for the kids.
Meloy (reluctantly): Well, I have a really good song for the opening cut. (Perks up) I also have this 12-minute medley that's a retelling of Shakespeare's The Temp –
Record Exec: Yeah, yeah, whatever. Hey, can you sound like James Blunt?
A thesaurus full of lyrics
The aforementioned medley is excruciating as Meloy goes back into quirk mode with the series of songs that, while describing a kidnapping and murder by drowning, mention the words "curlews," "barb," "arabesques," "jetty," "cormorants," "parallax," and "sable." I didn't like the songs, but my vocabulary grew by leaps and bounds.
Luckily, enduring the medley (titled "The Island: Come and See / The Landlord's Daughter / You'll Not Feel the Drowning", of course) has its rewards. I finally experience the plain but pleasant voice of Jenny Conlee on "Yankee Bayonet (I Will Be Home Then)," and I wonder why she doesn't sing more. And then … there it is again! Another iPod worthy track! "O Valencia!", which has been featured in several commercials, opens with a pounding drum and guitar riff reminiscent of R.E.M.'s "Seven Chinese Brothers" (Lawsuit! Lawsuit!) and is downright poppy – until you listen to the lyrics, in which two gangs battle, causing the shooting death of the narrator's girlfriend. (Cue Debbie Downer music)
The Crane Wife is — dare I say it? — enjoyable in many places, and it even seems as if Meloy's over-enunciating and reedy tone are less annoying. But while the lyrics once again read like poetry, I'm not sure they really should be set to music. With the above example, it's almost as if Meloy, et al are trying to impress us with their vocabulary, or look down their noses at us from the heights of the intellectual elite.
As I reach the concluding song(s), the 11-minute "The Crane Wife 1 & 2" (yes, another medley), I continue to hear bits and pieces that are really, really good. But then – wait a minute, did he just say "dirigible"? Is that the first time that's ever happened in a song? Sometimes, I just wish the Decemberists would stop with the airs and just rawk.
The Hazards of Love
I was not expecting a surprise conversion before listening to The Hazards of Love – it was flagged by most critics as a challenging album. I thought it might help if I donned a black turtleneck and thick black-framed glasses, traveled in a Prius to my local coffee shop, ordered a low-foam soy latte, opened up a new Macbook Air and listened to the album while writing. Sadly, I don't think anything would help me appreciate this album.
The group did try to shake things up a bit; at times, the CD sounds like a 1970s prog record; other times, it veers toward heavy metal. Most of the time, it's just weird. There is still no sense of melody, no innovative chord changes, nothing. Instead the focus is on the libretto of this rock opera/concept album, which centers on a woman "ravaged" by a "shape-shifting animal," a "forest queen," and a "cold, lascivious rake." Um, okay.
There was a time during "The Hazards of Love 2" (Not to be confused with "The Hazards of Love" 1, 3 or 4) when I detected a trace of a song. Meloy seemed sincere, his reedy voice subdued somewhat. But that moment quickly faded. I checked around track 12 to see if I was almost done. I still had five more songs to go through.
I just don't get this. It's obvious that they're good musicians. Why don't they make good music?
It's as if their songwriting methodology consists of coming up with a marvelous (albeit bizarre) idea for a song or album, find some new way to kill the protagonist (when in doubt, use drowning), look up rare grandiose words from the bowels of the dictionary for their lyrics, and then finally, find a few chords to set their idea to music.
The lyrics shouldn't bother me. I like other musicians that tend to go for old, archaic themes: Suzanne Vega's "The Queen and the Soldier" is touching, and my current favorite folk artist, Kate Rusby, finds old English poems and sets them to music. But I see two things that push the Decemberists into pretentiousness:
Colin Meloy's voice. His over-zealousness, his tendency to overenunciate and sing in some strange dialect, and his timbre, described by Paste magazine as "bleating," could make any lyric annoying.
Their intentions. They try so hard to be uncool, to separate themselves from normalcy. (Remember? They're quirky!) A recent photo on the cover of Paste has them dressed to the nines – three-piece suits, bowties – in the middle of what seems to be a rainforest; another photo shows the same scene, only one member is lying on the ground with others huddled around him, as if they're investigating a crime scene. You know the type: You ask someone how their weekend was, and instead of saying "I did some shopping," they have to tell you that they went to an organic store, bought some hemp bags because they're all the rage, watched a great documentary about a Serbian environmentalist group and bought a new book that NPR has been raving about. They go out of their way to show you that they're part of the intellectual elite. And you make a mental note to never ask them again about anything.
On a side note, I have always questioned the ability of words to completely carry a song. It's why Dylan does not rank highly in my catalog (although he has written a few good melodies). It's the main reason I dislike hip-hop. And granted, I don't have much ground on which to speak when my all-time favorite song features lyrics such as "I know all the games you play/ And I'm going to find a way to let you know that you'll be mine someday."
And at times groups do both extremely well (R.E.M., Bruce Springsteen). But the ability of music to evoke emotions in humans is an extraordinary gift. Words have meaning attached to them, and we can more easily extract that meaning due to our exposure to the language. The Decemberists use their words quite well, but I'm not impressed with their ability to do the same with their music.
Okay, you're nerds. Good Lord, we get it. Thanks to Devo, Elvis Costello and Weezer, nerds are the norm in pop music. That's not really a new schtick. Stop using it as a gimmick.